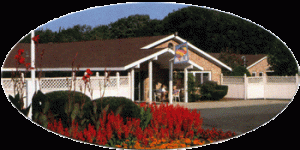 As a family we have always known that our staff is extraordinary. We have seen, first hand, the daily evidence of love, care and dedication this fine group of people provides for their residents. Our staff is humble, going about the business of resident care and comfort without expectations of acknowledgment. It is even more special then, when those outside of this facility recognize the amazing job each of them does, every day – day in and day out.
Recently The Westerly Nursing Home received the highest recognition given by the Federal Government and the State Of Rhode Island: a deficiency free federal and state survey. A feat indeed, considering the scope and in-depth nature of the survey process.
As if this weren't enough, add to the achievement – recognition from "My Innerview", who awarded Westerly Nursing Home The 2009 Excellence in Action Award for superior customer satisfaction.
Top all of this off with the Centers for Medicare and Medicaid Services five star rating! Westerly Nursing home was the only nursing home in Westerly to receive the highest star rating available!
The secret is out, Westerly Nursing Home, is the premier facility in the area. Come in today and see for yourself – we would be happy to show you around.
The Martin Family
Paul Martin, Administrator